When you finish this booklet, you should have better answers to such questions than Snoopy does. I am going to take you behind the curtains on the stage of life and show you some of the tricks of magic by which the Master Magician, our Creator, has made it possible for you to live forever.
We are all familiar with the seeming magic depicted in this drawing where a wet squishy caterpillar spins himself a burial robe and later emerges into a new world as a beautiful, colorful and vibrantly alive butterfly. This sounds like sheer magic, and is, but I assure you, that in creating you, the Master Magician has perfected his "tricks" still more. In your case, you will shed your wet squishy body and, eliminating the step shown here as the chrysalis, emerge immediately into a new world with your mind, your memory banks and your personality intact.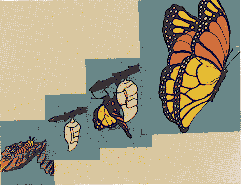 Admittedly, the physical body is a marvelous creation. Thousands of medical re-searchers over the centuries have spent lifetimes trying to unravel its mysteries.
But you must not think of yourself as a body with a soul, but rather as a soul temporarily occupying a physical body.