The surgeon removed 60% of the stomach, but there would be very little post- operative pain or discomfort. If this had not been an operation on her stomach, she would be able to eat a full meal thirty minutes after the operation.
Further, if you are to understand the magic by which you will be living forever, you need to learn about the other invisible energy system which powers your body with cosmic energy. The chakra system, known to readers of esoteric literature, involves a series of brightly colored energy vortexes at the points indicated above: the top of the head, the forehead, the throat, three places on the chest, solar plexus and the base of the spine.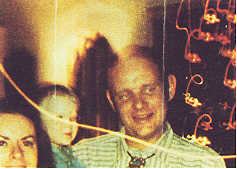 This photo of a Miami, Florida couple and their small child is one of the first to bring into visibility the energy flow at the chakra level. Note the stream of light energy arching up from the child's crown chakra and curving back down toward the father's crown chakra.
Following years of travel and research on these subjects, I decided the time had come to set up my own facilities to explore these energy fields in a more scientifically controlled fashion. After months of painstaking effort, I produced two astonishing photographs in my laboratory.