But there is one factor which underlies all of the answers. All of us are equal when we walk through the door marked "Death and Rebirth" in so far as race, religion, sex and color are concerned. These factors have no real bearing on our movement upward through the worlds of Spirit.
This was one of the interesting questions: "There are many types of people alive today in what you have called the physical or earth plane. Let us assume that you are right when you say each person will shed his caterpillar-like body and start flitting around like a butterfly on some other level of existence. What I want to know is, on what level am I likely to find myself?"

Well, not knowing you I cannot answer this. However, you can look at the photo and then look at yourself.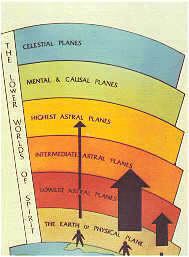 The narrow arrow at the left of the diagram refers to individuals who have made more than average progress in this or past lives and whose souls have evolved to the point where they are just naturally living their present lives in harmony with some characteristics which we will present in a following paragraph. If you are in this group you will probably find yourself in what we call the Highest Astral Planes.
The big arrow in the middle relates to average kind-hearted, considerate, well-meaning and hard-working adults, and most infants and children, with likely arrival on what we call Intermediate Astral Planes.
The arrow at the lower right as this illustration appears in After We Die, What Then? is marked F, indicating failure to achieve true purpose in the life just lived.
This smaller group is made up of greedy, cruel, selfish, materialistic, highly egotistic and unloving persons, including, for example, rapists, drug addicts, alcoholics, suicides, murderers, hardened criminals and despots.
Now let us consider another question: "What can or should I do to make certain that I am on a path which will by-pass that dark and dismal level of existence you have called the Lower Astral?"