Claus Schreiber, Germany
| | |
| --- | --- |
| | with video clips |
---

Claus Schreiber, the first to
receive clear images from spirit.

Claus Schreiber began to receive spirit images on his TV set in 1985, including the faces of scientist Albert Einstein, Austrian actress Romy Schneider, and various departed family members, especially his two deceased wives and daughter Karin, with whom he was particularly close. His technique, set up by his colleague Martin Wenzel, involved aiming a videocamera at the television and feeding the output of the camera back into the TV, in order to achieve a feedback loop. The result was a churning mist on the screen out of which the spirit faces would slowly form over a period of many frames. Schreiberís spectacular results were the subject of a TV documentary and book by popular radio-television commentator Rainer Holbe in nearby Luxembourg, in 1985.

(Information from ITC - History and future)
Claus Schreiber got the advice from his contact partner in beyond via EVP to make experiments with video.
The following information is excerpted and condensed from the books
Claus Schreiber was a German man with very powerful psychic skills that lay dormant until the 1970s and 80s. After hearing about the phenomenon of spoon-bending, he went to the kitchen, pulled a spoon from the drawer and tried it. To his amazement, after a few gentle strokes the spoon bent in his hands as though it had melted. Before long he had bent not only a variety of silverware, but also an old horseshoe.
He began voice experimenting with a tape recorder, and immediately began receiving voices of his many deceased relatives. He was now hopelessly excited about paranormal research, especially spirit communication, so he opened up a lab in his basement for audio and video experiments.
In the mid-1980s Mr Schreiber became the first person in history to receive direct paranormal images in an experimental setting. They came through his old black-and-white television set. He began with some rather elaborate video-feedback experiments which produced strange, misty patterns on the TV screen, and images would form out of the mists--images of deceased family members, strangers and celebrities--such as the images of physicist Albert Einstein, German movie star Romy Schneider, and his own daughter Karin who had died at a young age. Karin appeared as a female figure in a dark blouse and a white skirt with her head tilted, and soon became her dad's primary research colleague, acting as an intermediary in his contacts with other departed family members.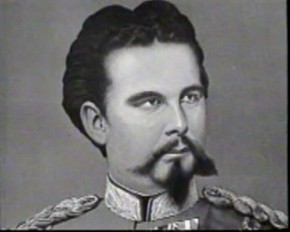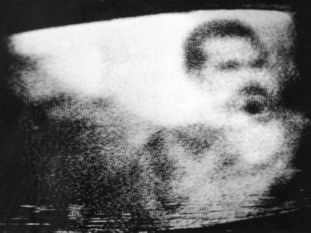 King Ludwig II (left) who has been invoked by Claus Schreiber appeared on the TV screen

---
click to enlarge

Heinrich Boden
(brother-in-law of Claus Schreiber)

A picture of Claus Schreiber's daughter Karin came through his television after her death.
---

Albert Einstein?

| | |
| --- | --- |
| | Click to see how this picture developed on screen (excerpt): |
---


A profile of Austrian actress Romy Schneider came together from a cloud that had begun to move slowly upon the TV screen, as Claus Schreiber aimed a video camera at the screen, feeding the output of the camera back into the TV to form a video loop.

| | |
| --- | --- |
| | Click to see how this picture developed on screen: |
---
If you like to see how that face changed please click on the camera.

WMV-file
168 KB
- 11 sec.
---
Claus Schreiber died in January 1988 after a second heart attack, and within months began sending pictures and messages to former friends and colleagues on Earth, including a picture of himself and a picture of the spirit-world home where he is reported to be living with other deceased Schreiber family members.

| | |
| --- | --- |
| | A new picture. On 1994 October 13 a picture with text arrived in Luxembourg (Harsch-Fischbach) from Claus Schreiber. It showed a photo of a young black man in the company of actress Romy Schneider. In the accompanying text Mr Schreiber described how he met the two during his discovery trips along the River of Eternity and took pictures of them. |
Since his transition in 1988, Mr Schreiber says he has been enjoying frequent spirit-world travels with many fascinating experiences. He has been sending many pictures to Earth in the hopes that some of them will be received. We are told that pictures such as these remain in "the quantum of spacelessness and timelessness", and perhaps it is just "a matter of time" and receptivity before they are captured by equipment of receptive ITC experimenters on Earth.
Claus Schreiber died in 1989, and the following year sent pictures of himself in his spirit body and his new spirit-world home to Harsch-Fischbach in Luxemburg.
---
More information to the following pictures soon available: (click to enlarge)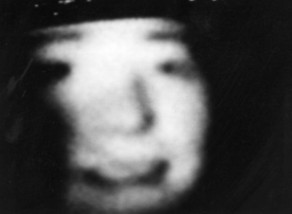 rodiehr Dec 17, 2002

- updated Dec 18, 2007
---
You are visiting our website: W

rld ITC.org To reach our homepage click here please.